Vinyl Siding in Richmond, Texas
Looking for vinyl siding in Richmond, Texas?
Serving the Richmond area since 2017, the skilled craftsmen at LYF Construction have been providing superior quality, affordable vinyl siding installation.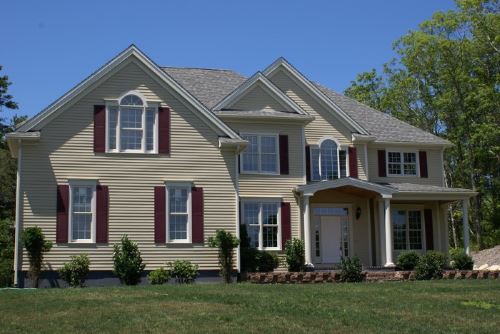 Vinyl siding is the most economical, sustainable, durable exterior cladding for your home or business, while maintaining its beauty. It demands the least amount of time, money and effort to maintain. You'll not have to worry about painting, rotting, splitting or insect damage. The only maintenance vinyl siding have require is periodic washing with mild soap and a hose, making it the most preferred choice of exterior cladding.
With its wide array of colors and styles, it will complement any architectural style and add the curb appeal you've always dreamed of.
For your vinyl siding installation in Richmond, Texas, call (832) 286-0546 for your free estimate.
---
Call for FREE Vinyl Siding Quote
---
WHAT CUSTOMERS ARE SAYING:
5★★★★★ - "Fantastic work! Had marble tile replacement as well as drywall work done this week. Very responsive and great attention to detail! Highly recommend!"

Dan in Richmond, TX

2022-04-11

5★★★★★ - "We had a patio built and are very pleased with the product and the service. They completed in fewer days than promised. Tino, the man who did the work, was able to diagnose and fix a problem that was caused by the builder and didn't add on any extra charge. I felt valued as a customer."

Tony Rosella in Richmond, TX

2021-12-22

5★★★★★ - "I hired LYF to remodel my master bathroom and had a very good experience. Excellent job, I recommend Fabian."

lisa dantimo in Richmond, TX

2021-01-07

5★★★★★ - "Mr. Fabian and his crew painted my house and did an excellent job. They were clean and fast. Thank you, LYF CONSTRUCTION"

HENNA in Richmond, TX

2019-12-02

5★★★★★ - "Fabulous experience from start to finish."

Lyn in Richmond, TX

2019-11-18

5★★★★★ - "As always I was very satisfied with the work done by LYF. The work was done in a timely fashion and the quality was excellent."

Greg baughman in Richmond, TX

2019-08-28

5★★★★★ - "Replaced hardy on my house and had a new patio installed. Fantastic work. Thanks so much for making it easy."

Ernie

2022-08-09

5★★★★★ - "Fabian and his team were efficient, professional, and affordable.
From day one they were on time, on schedule, and on budget.
Highly recommended for home improvements."

Garlund

2023-04-18

5★★★★★ - "Excellent work, Fabian and the team were so quick and all the work done was perfect."

Brajesh Rai in Houston, TX

2023-01-20

5★★★★★ - "Fabian did a room addition, tiling of my chimney all the way to ceiling. Very timely and professional. He does a excellent and clean job and ensures you are very satisfied. He has very good workers and ensures the quality is AWESOME!!!!"

Shakira in Sugar Land, TX

2022-11-01

5★★★★★ - "LYF does amazing work. We have had two major renovations that were executed promptly and turned out beautifully."

Anonymous

2022-10-27

5★★★★★ - "Working with Fabian and his crew was a pleasure. They were responsive, and professional and helped with everything I needed to remodel my house. I highly recommend this company."

Anonymous

2022-09-26

5★★★★★ - "Fabian and the team did a good job on my 2 bathroom remodeling. There were some issues during the work but Fabian handled them very professionally."

Anonymous

2022-09-12

5★★★★★ - "Good experience. On time and proficient. I highly recommend."

Miriam A.

2022-09-06

5★★★★★ - "Fabian and his team did an amazing job for my house. We were very impressed with the patio that was built for us and all of the house siding was replaced with grade-A hardy planks instead of the old plastic sidings."

William in Meadows Place, TX

2022-09-02

5★★★★★ - "Fabian and his crew were fantastic - so responsive, excellent service, and fast! Our previous contractor left us in the middle of the project and LYF came in and gave us a great deal and took care of everything. Highly recommended!!! Can't go wrong with LYF!"

Anonymous

2022-08-24

5★★★★★ - "We have only good experience with this company, they built our cover patio, bedrooms, rebuilt our bathrooms, always on time and excellent quality."

Ana Christa in Rosenberg, TX

2022-03-14

5★★★★★ - "Fabian did a fantastic job, it was the best decision and great quality!"

Kevin Scott in Katy, TX

2022-02-28

5★★★★★ - "Fabian has a great team! They did a great job with my remodeling & repairs! They are on time, efficient, and pay close attention to detail. They clean up after the job. They respond to questions quickly and needless to say, I would recommend them! Thank you, Fabian!"

Anonymous

2021-11-17

5★★★★★ - "Mr. Fabian and his crew were FANTASTIC! They arrived EVERYDAY on time, respected my home, very courteous and polite. I would recommend this company to everyone. Oh, Mrs. Fabian was 100 percent on the ball, She helped with the floors, counters, the whole design.
THANK YOU LYF Construction!"

Ralph & Mary A Smith in Stafford, TX

2021-11-11

5★★★★★ - "Mr. Fabio does a great job! Five-stars."

Anonymous

2021-08-17

5★★★★★ - "Very good job"

Mr. John

2021-06-24

5★★★★★ - "Very good and detailed job!"

B sharma

2021-06-14

5★★★★★ - "Great job, God bless those guys"

Anonymous

2021-05-27

5★★★★★ - "The job was extremely well done and on schedule! It was pleasant working with Fabian and his awesome crew! Will give them business in the future! We recommend them highly!!"

Manisha

2021-04-09

5★★★★★ - "Fabian and his crews have been wonderful. We've engaged LYF on several occasions and have been consistently impressed with both the quality of work and the professionalism of the staff. Highly recommended."

Don Archer

2021-04-07

4★★★★☆ - "Good work, respectful, on time, eager to please."

Dotey

2021-03-25

5★★★★★ - "I would receive this company to everyone. They showed up on time each day. The workers were very courteous and professionally. This is the best experience I have had!"

Homeowner

2021-03-05

5★★★★★ - "AWESOME job! Very professional and GREAT prices! We are excited about our next project and the great job we know they will do."

Anonymous

2021-02-09

5★★★★★ - "Great work! The workers made a beautiful patio cover for us and finished on time."

Esdras in Missouri City, TX

2021-02-08

5★★★★★ - "Fabian, the owner, helped me with my bathroom remodeling. They do a very professional job and affordable Thanks LYF Construction."

richardson brian in Houston, TX

2020-11-18

5★★★★★ - "Great job! Fabian kept communication open with me. He made sure we were satisfied with the job and we are! The screened-in back porch looks as if it came with my home."

Anonymous

2020-09-10

5★★★★★ - "Very respectful, fun, and affordable. 100 percent recommended!"

Anonymous

2020-08-03

5★★★★★ - "Great work, very timely too. Highly recommended."

Anonymous

2020-08-03

5★★★★★ - "Great job !!"

Mr Henry

2020-07-23

5★★★★★ - "Excellent. Will get him next time I need something. Keep number handy!!"

Anonymous

2020-07-20

5★★★★★ - "The best contractor in Texas. Love my new bathrooms. Hire these guys!"

Mitch in Sugar Land, TX

2020-07-01

5★★★★★ - "Fabian was fantastic and very reliable. I LOVE MY PERGOLA! I am going definitely refer my family and friends to him."

Cindy Williams in Katy, TX

2020-06-30

5★★★★★ - "Great experience with LYF Construction. Fabian, the manager, was responsive to all my questions, good price, and job completed on schedule and budget."

Lubert Babb in Rosenberg, TX

2020-06-08

5★★★★★ - "I hired Fabian to remodel my home. Other contractors told me what I wanted could not be done with my budget and Fabian and his crew proved them wrong. My home is absolutely beautiful! If you are looking for a professional, knowledgeable, and reasonably priced contractor, look no further!"

Jaquetta in Houston, TX

2020-06-04

5★★★★★ - "I hired LYF Construction to paint my kitchen cabinets and to antique them. Their pricing was excellent which concerned me about the quality of work. Turned out they were on time every day, the quality of work was excellent and the customer service and follow up was also a bonus. Every message I left was returned within 15 to 30 minutes. I would recommend LYF Construction to anyone."

Randy Fertitta in Missouri City, TX

2020-01-13

5★★★★★ - "I love my new kitchen ! Fabian is quick to respond to all questions and concerns."

Leslie Kaley in Sugar Land, TX

2019-11-26

5★★★★★ - "Fabian and his crew did a great job! Work was very nice and scheduled worked out well."

Anonymous

2019-11-12

5★★★★★ - "Excellent work. Fabian and his crew worked quickly, efficiently and the quality was worth every cent. Highly recommended."

Jacob in Houston, TX

2019-10-21

5★★★★★ - "Excellent, the staff was hardworking and detailed. Honest and fair with any unforeseen projects."

The DICKSON'S in Sugar Land, TX

2019-08-26

5★★★★★ - "Fabian and his crew did some medium to large commercial remodeling work for me. The job was completed in a timely manner and done professionally. Any issues that arose, he came back personally and handled. Would recommend for any size job"

Aldo, Door Installation in Sugar Land, TX

2019-04-23

5★★★★★ - "The Owner very helpful, goes the extra mile to assist you with your construction project. I have other projects to do in my home and plan to you his company. I had a bathroom remodel done and am happy with the outcome.Would recommend."

Darvin J, Bathroom Remodeling in Alief, TX

2019-04-23

5★★★★★ - "This company put a roof on my house.
Excellent job
on time
never left a mess
i will use them again"

Rick M, Roof Installation in Cypress, TX

2019-04-23

5★★★★★ - "The Owner was very helpful and goes the extra mile to assist you with your construction project. I have other projects to do in my home and plan to use his company. I had a bathroom remodel done and am happy with the outcome. Would recommend."

Jean in Houston, TX

2018-11-26
---
Call for FREE Vinyl Siding Quote
---