Roofing Contractors in the Katy, Texas Area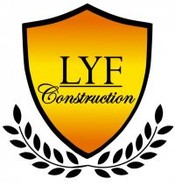 LYF Construction has provided quality roofing in Katy, Texas since 2003, including roof installation, replacement, and repair throughout the Katy, Texas area. We've been in the roofing business for more than 16 years. We offer roofing for both residential and commercial customers. We also offer related home improvement services, including vinyl siding, pressure washing, ice dam and roof snow removal, and gutter installation.
---
Call for FREE Quote
---
Invest in your home with a quality roof that protects your property and adds curb appeal. LYF Construction has an extensive offering of roofing materials to give your home a unique look. Our experienced roofing designers can help you choose a product, texture, and color that will complement the architecture of your home. Call (832) 304-6764 to speak with one of our professional roofers.
Your roof takes a beating from the sun, severe weather, falling branches, and other adverse conditions. If your roof needs repair work or needs to be replaced, the professional roofers at LYF Construction can provide a no-cost estimate. Our roofers will provide seamless repair with top quality materials. Call (832) 304-6764.
LYF Construction provides commercial roof installation, repair, and replacement throughout Fort Bend County. Call (832) 304-6764 to discuss your commercial roofing needs with one of our experienced roofers.
Do you need your siding replaced, or just need new siding installed on your property? In addition to being roofing experts, LYF Construction has the expertise in vinyl siding installation. Whether it's your home or business, call LYF Construction for your vinyl siding project.
Every home or business needs windows, preferably windows which are functional and energy efficient. When you need windows installed or your windows replacement, call LYF Construction.
---
Call for FREE Quote
---
Professional roofing in Katy, Texas and Fort Bend County.